Piston liners are components that require extreme precision in the way they are machined to ensure a perfect response in the variation of the flow rate to the input signal. The piston liners manufactured by Mecasoft are regularly used in the aerospace and industrial industries. Read on to find out more.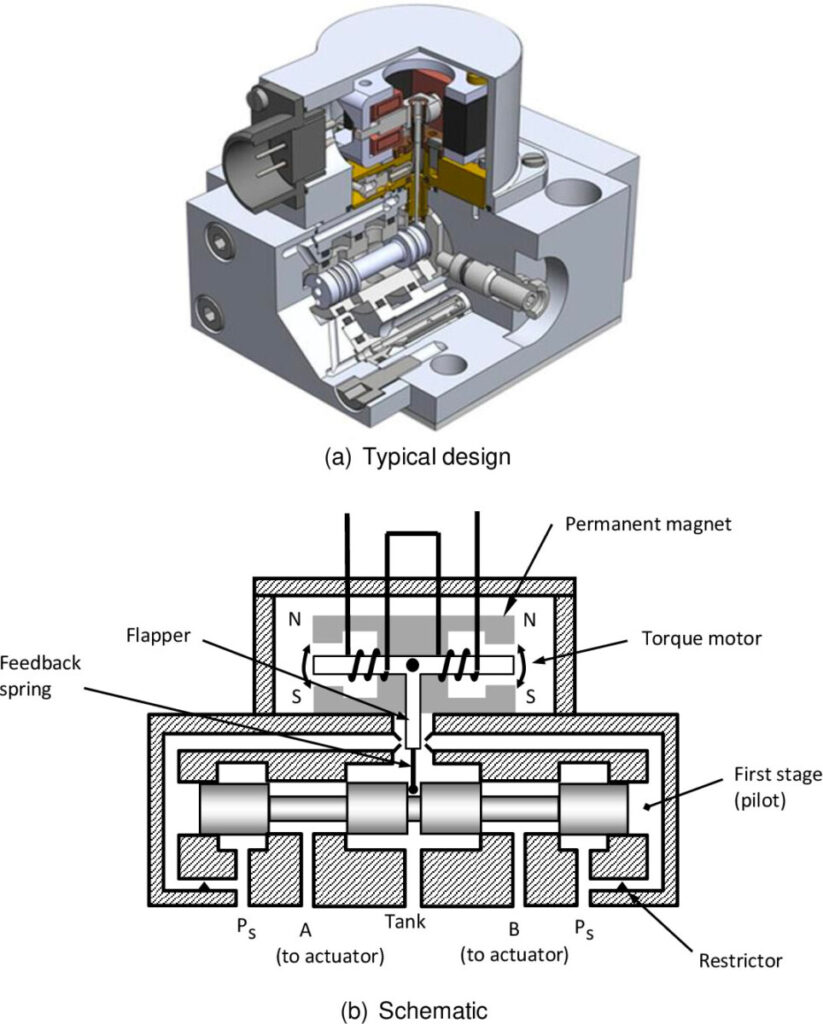 Common use of piston liners
The piston liners are made of high quality materials to ensure durability and reliability. If they need to be replaced, it is important to make sure the dimensions and specifications are correct to ensure a perfect fit.
Piston liners in electro-hydraulic servo valves
Piston liners are a key component of electrohydraulic closed-loop motion control systems and are necessary for the proper operation of electrohydraulic servo valves. These servo valves are critical components used in the aerospace and manufacturing industries. They allow for precise control of the speed and force of movement of these electrohydraulic systems in a closed loop.
In summary, a servo valve uses a sliding piston to regulate the flow of hydraulic oil through the valve, thereby providing a continuous variation in flow rate in response to an input signal.
This is where the piston liner comes in! This is because the precision of this device is due to the small overlap between the piston and the liner, creating a frictionless fit through an air cushion effect. This controlled phenomenon prevents "metal to metal" contact and ensures precise centring of the floating piston inside the sleeve.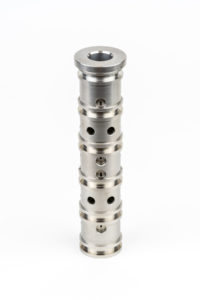 Use of electro-hydraulic servo valves
These electro-hydraulic servo valves are generally parts of assemblies that perform various critical operations in aeronautics:
leading edge de-icing
steerability
braking
train extraction
flight controls
As a result, the major aeronautical manufacturers (such as Airbus or Boeing), as well as equipment and engine manufacturers (Safran, SABCA, etc.), use these systems in their assemblies for aircraft, rockets (Ariane) and other aviation equipment.
High-precision machining of piston liners
Workpiece profile
To achieve these essential characteristics, the servo valve of a sliding piston requires a liner with a very specific profile. The spool needs to have rectangular holes (or slots) or annular grooves machined into its surface in order to achieve a very accurate flow rate response to the position of the spool.
EDM as a machining technique
It is clear that the machining precision in piston liner assemblies plays a crucial role in achieving highly reliable motion control. This is particularly true for the aforementioned windows and inserts (rectangular, annular or other), which require micron-level adjustment.
These applications are particularly well suited to EDM technology, which allows complex shapes and sharp angles to be produced in even the hardest metal materials.
Mecasoft's expertise
Mecasoft, EN9100-certified, has built a wealth of expertise in this field over many years thanks to its cutting edge know-how in electro-erosion and other micro-mechanical techniques. A demonstration of Mecasoft's unique capabilities is the ability to perform machining operations using wire sizes of 0.2 mm (200 µm) or less, down to 0.02 mm (20 µm tungsten wire) if required. To do so, we use processes that have been audited and certified by the major aircraft manufacturers.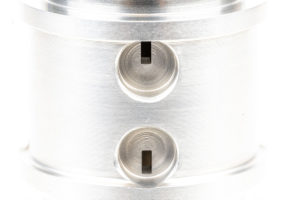 In spite of our attention to detail and quality, efficiency and productivity remain our focus for the aeronautics industry. Thanks to our unrelenting investments, we have been able to build a substantial machine capacity. This enables us to optimise the efficiency of the machining process, by operating a large number of machines simultaneously.
Find out more about the profiling of assembly parts by Mecasoft
In conclusion, high-precision machining of piston liners is a crucial step in the manufacturing of electro-hydraulic servo valves and other assembly components for the industrial and aerospace industries, among others.
Mecasoft has racked up leading edge expertise in EDM machining, which enables us to produce extremely reliable products. We use state-of-the-art equipment and optimised technologies to machine each part with care and precision.
Contact us for more information on our machining techniques and the expertise of our design engineering department for the profiling of your metal parts.